Do you want to have a 15 minute fame? Then live tv is the right one for you! You can share anything under the sun in this blog and do a live show for everybody. Isn't this exciting? You can show what you got in a live broadcast ! Cool! Try it out and who knows you might be discovered!
We went to Manila last Sunday and we dropped by Mall of Asia. And the first thing that comes to my mind is to visit BookSale. And lucky enough I got 7 scrapbooking magazines! Woohoo! I am still reading it and I am the reader from cover till the end. hihihihi! SO it will take me so long to finish reading the 7 magazines. hihiihih!
Need to try this magic casino that I saw online so that I can buy more paper scrapbook materials. Hahahhaha!
I wish to experience the realm of riches and buy everything I want. Hmmm… I know everybody wants to experience it. I also  saw that there are already comuterized slot machines out there. I want to try that one also. I think it is so much fun to play that. I can only see those in movies.
Jun and I arrived this morning at 6:00 AM at home. We departed Manila last night at 6:00PM. It was a very tiring trip but I had fun spending that vacation with Jun's family.
We went to Manila Ocean Park and it is so cool there. I suggest this place for field trips, family outing, nature lover specially those who loves fishes and other ocean creatures. And then we went to MOA to go shopping. It was tiring to find the shop that you are looking for there. The mall is so large I can't manage to stroll around in just 2 hours!!! My feet are already swelling when we went back to the bus. Yes we used one of the buses of Jun's family. I bought new scrapbooking magazines at BookSale there and I am one happy shopper again! hahahahah! Imagine I bought 7 scrapbooking mags!!!! I was smiling from ear to ear when i saw the mags. Honey also bought motorcycle mags there.
After MOA we went to STAR CITY. I had a lot of fun there too. We have the ride all you can ticket and at first I was so afraid to try one of the rides there. We started to ride on the ferris wheel and then I joined Jun and his brother and brother in law to the Surf Dance. I was so thrilled to ride that one. It was not that scary at all.
After STAR CITY all of us are tired so we went home at my sister in law's house in Fairview, Quezon City.
The next day we went to Quiapo. We dropped by the church, prayed and then went shopping. Mom bought umbrella's for pasalubong to our maids. I got one too because my umbrella is staring to give up already.
And then we separated to the group. Jun, Kuya Curd (husband of my sister in law) and me went to one of the Mall who sells DVD's. OK I'll admit it was pirated! hahahahahah! I bought 6 DVD's and then went to one of my target shop. I didn't planned to buy what they are selling but I was just canvassing so that I know how much I will be spending on that product.
OK I will tell you what product it is….
An SLR CAMERA!!!!!
We went to Henry's and saw a lot of good camera's there. I was drooling there!!!
And I got tempted!!!! LOL!
My main purpose of going there is to canvass but I can't let go of the cam I was planning to buy. So I purchased it. Gosh! I was so HAPPY to touch it and try it!!!! I was smiling after the sales lady put the camera and accessories to the bag.
So there… I have a new BABY and I decided to call her Nikkolette. And I am happy to introduce her to all of you.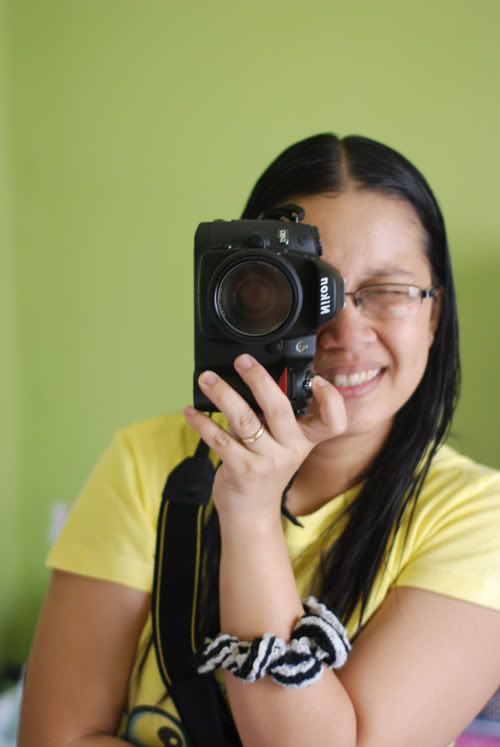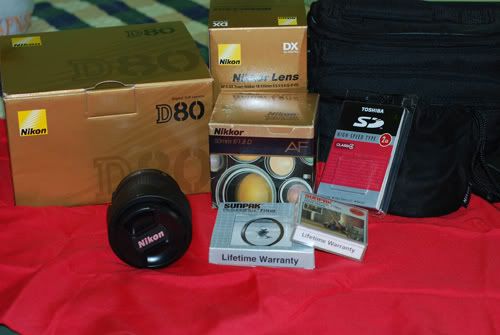 My New Nikon D80 Camera with 18-135mm lens.
Also purchased the 50mm f1.8 lens and two filters.
The camera has a 2GB Memory Card and a free bag.
Sorry for the not so sharp photo above. I am a newbie in this kasi. I didn't edited this one. I just cropped it in photoshop.
*Smiling from ear to ear.
I will post pictures of the ocean park and other photos tomorrow. Thanks for visiting me! Mwuah!
Have you seen the #1 online casinos reviews for gamblers? Then you should check out www.casinohaste.com to see it for yourself! They have a lot of sites in their review so you can choose what site to go for your game. When you finally chose the best site to play then go, play, enjoy and tell me your experience ok? Good Luck!
This is my take on the Round Robin Challenge on my yahoo groups. I really had a lot of fun doing this. I will surely join the nest Round Robin.
You can see the other LO's of this challenge here.
Thanks for looking!

1. What color are your eyes? dark brown
2. Anything pierced? only my ears
3. What was the last thing you ate? Barbq for dinner
4. If you were a crayon, what color would you be? Why? purple. because it is my favorite color and it is me.
5. What is the best advice ever given to you? Let him go.
6. What sport do you hate the most? can't think of any right now.
7. Have you ever been broken hearted? yah many times.
8. Do you wish on stars? yes.
9. Are you a daredevil? nope.
10. Do you like to walk in the rain? yah. Sometimes I run! hahahahaha!
I had a lot of fun answering these! Thanks Mommy Yen!
Looking for a good art for sale? Visit this online art gallery that I found this morning. You can buy art from them and put it in your house as a decoration. I love art and I hope to buy more paintings and the like to beautify my house. I wish I have a lot of money to buy those expensive portraits and paintings that I saw online.
It is March already and I haven't updated this blog again! I know I am such a….. never mid!
I am too busy this March because of Huey's death anniversary last March 10. I hope to update this more often. Crossing my fingers now.
I also have no new paper scrap. I'm so sorry. I will try to make one this week.