1. Did you know what time and day you were born? If so, please share.
Hmmm.. will ask my mom first.

2. Do you like shoes or barefoot?
I love shoes.

3. Painted nails or not?
Painted.
4. What's your favorite "finger food"?
Any chichirya. 
5. What is your favorite all time tv show?
Desperate Housewives, American Idol, America's Next Top Model.

6. What is on your favorite burger?
KFC Burger.

7. What was your least favorite class in school?
Math.
8. Movies….comedy, action, drama or romantic comedy?
Romantic Comedy.
9. Look to your left now….what do you see?
My niece (actually Huey's) crib.

10. Favorite brand of toothpaste?
Colgate.
1. What was the last song you listened to?
Thomas and Friends Song.

2. What's the name of your bestfriend? Describe him/her.
I consider Aleta as my bestfriend ever! She is my classmate way back in my elementary years. She was our Valedictorian and she is a UP Diliman graduate. I admire her so much. I miss her also. She is in Manila right now working. I hope she will visit me again soon.
3. What is your favorite fruit?
Mango. Indian Mango in particular.

4. What is your worst bad habit?
I'm a procrastinator.
5. Do fish have feelings?
Hmmm I think yah.
6. What do you think about copycats?
Hmmmm… Admiration yun sayo.

7. How do you release anger?
I cry.

8. Do you have a nickname?
My mother side family calls me Dayeen. My father side family calls me Day. My friends and Jun's family calls me Diane. And some friends call me DAJ. My sister calls me Ate Day. And mom and dad calls me Nene.  Jun calls me Honey.
9. I say "orange". What comes to mind first?
The fruit.

10. Do you play a musical instrument?
Nope. My mom is a good guitarist and I wanted to learn that too. 
1. Have you ever had a summer romance? Care to share?
Hmmmm. When I was a kid yah. It was like a puppy love. hiihihih!
2. Do you believe in love at first sight?
Yah. Hubby said he was love at first sight with me. hahahahha!
3. 'You don't marry someone you can live with, you marry the person who you cannot live without.' What do you think of this quote?
I love that quote! It is so true.

4. Where does true beauty lie? On the inside or on the outside?
Inside.
5. Did you ever had a crush on a classmate or teacher? Who was it?
Yah. I had a crush on a classmate (A) when I was in high school and I guess it is mutual. But we didn't end up with each other. He didn't courted me thats why. Oh well! I am happy with my husband right now and I think I made the right choice.

6. Summer wear….shorts or capris?
Shorts.
7. Would you ride a roller coaster or sky dive?
Ride a Roller Coaster.

8. Last stupid thing you have done?
Sorry I am blank right now. I can't remember.

9. Any summer plans? Trips, vacations and etc. Where?
Hmmm.. I hope we have money for Boracay Vacation. I have never been there.

10. In one word, define yourself!
Creative.
My answers are late. : (
1. What was the last movie you bought/rented?
27 Dresses.

2. Have you ever gone too far on a dare?
Hmmmm. No. 
3. Can you sing the alphabet backwards?
No.
4. Are you allergic to anything? What?
Dust Mites. I have allergic Rhinitis.
5. Do you cry at weddings?
Nope. I am happy during my wedding. Hubby was the teary eyed on our wedding day.
6. Name one person you want to hug right now. Why?
My Husband. I just love him so much I wanna hug him right now.

7. Hair….natural or colored?
Natural. But has little bit of color from the past coloring. 
8. Do you like camping?
Yah. I am a girl scout when I was a kid. And camping is my thing!

9. Most annoying TV commercial?
The commercial about the woman visiting at the cemetery and she left a salad at the tomb. And then when she gets back to her house the exact salad was there. And it was all about using the right cream. Not really annoying but I don't like watching that commercial. I am scared at that commercial. hihiihihi!

10. Favorite place to shop?
Gaisano Mall.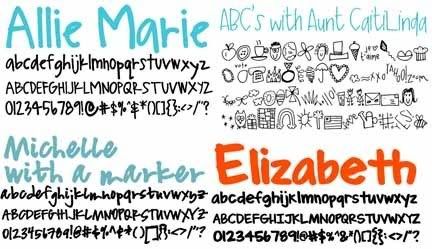 Get this cute free fonts here.